👉UPDATE: AS OF 3:00PM (GMT+8 MNL)FRIDAY.SEPT.29.2023👈
PLEASE READ
👉NEXT DELIVERY: TUESDAY, SEPT. 30 - All Cities in Metro Manila, Antipolo, Cainta, Taytay, Most Areas in Laguna, Cavite, Bulacan, Pampanga 👉 Cut-Off Time: 2:00PM, MONDAY, SEPT. 29👉 HURRY! FIFTY-FIVE (55) SLOTS LEFT! 👉 BOOK YOUR ORDER NOW!😊
👉 FOR TRANSLATION: OUR LANGUANGE SELECTOR FOR NIHONGO [JAPANESE] AND MANDARIN [CHINESE TRADITIONAL] LANGUAGES IS LOCATED AT THE BOTTOM OF THIS PAGE FOR YOUR CONVENIENCE!
Fresh Local Vegetables
Do I have to pay in advance?
👉NO! WE DO NOT REQUIRE YOUR PAYMENT IN ADVANCE! 👉THIS IS TO AVOID REFUNDS AND/OR MISUNDERSTANDINGS! 👉We will only require it AFTER you have received your order. 👉In the event we do, you will be notified should we require it! 👈Thank you for your cooperation and kind understanding!❤️
For Our New Customers ❤️
👉 Please be informed of our regular delivery schedule. Should there will be changes in our schedule, immediately, you will be notified of the change/s in our delivery schedule via text message or postings in our website, Facebook and Instagram pages. Thank you!😊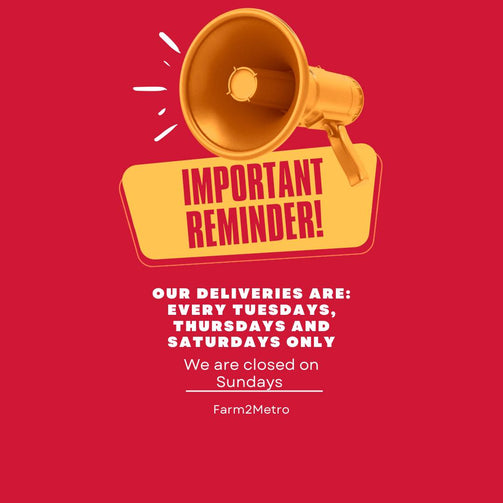 WEIGHTS POSTED? 😊
👉 We strive our best to have the closest to or exact weights as posted in our site, delivered to you! But products' weights of some fruits & vegetables (eg. Mini squash, Bananas, whole Jackfruit, Durian Fruit, Pomelo, Dragon Fruit, Soursop [Guyabano fruit] among others, may not be exactly, the weight depending on the harvested product, [it may be more, it may be less] posted in our site. 👉 More often than not, we deliver a little bit over than the posted weight, [1 gram-100 grams range] but we do not charge you for it!😊Unintentionally, sometimes it may be a bit less but NEVER, will it be significantly less! if it is, then we deduct it from your total amount for that specific product.😊 👉 Why can't we guarantee [on some products] the exact weight in our deliveries as posted? Firstly, we cannot control the product weights when its harvested. Secondly, if we alter it to meet the exact weight posted for a product, it may affect its appearance, and most importantly, its freshness! It is not, in anyway shape or form that, we purposely, will send you a heavier product & charge you for it to create additional sales on our end. 👉 Lastly & most importantly, we do value your business! 👉 We do care & value you, as persons, who you have entrusted to provide only the freshest SELECTION of Fruits, Vegetables, any other products to be delivered to you & to all your loved ones as if you picked it yourselves! Ask our loyal customers, they'll tell you!😊 Thank you and Happy Clicking!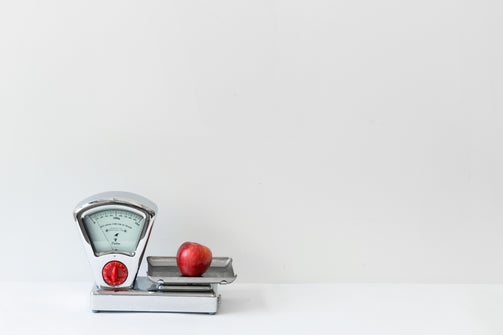 Fresh Local, Organic, & Imported Vegetables

319

products

Local Upland Wild Heirloom Organic Pounded Rice

5

products

Local Premium Upland Coffee Beans

7

products

Fresh Fruits For Everyone

107

products

Imported Fresh Fruits

37

products

Fresh Local & Imported Mushrooms

19

products

Fresh Fruit Baskets

6

products

Fresh Local Seafoods

73

products

Fresh Meat & Poultry

49

products

Fresh Herbs and Spices

52

products

Local Organic Rice

15

products

Fresh Eggs

24

products

Local Sun Dried Fish

37

products

Local Rice Selection

16

products

Tofu [Local & Imported] Products

5

products

Fruit Wines

5

products

Local Organic Beans

9

products

Fresh Edible Flowers

6

products

Lifetime Membership Cards

2

products

Other Products

3

products
Showing 12 of 319 products on Fresh Local, Organic, & Imported Vegetables collection
Showing 12 of 107 products on Fresh Fruits For Everyone collection
Showing 12 of 37 products on Imported Fresh Fruits collection
Showing 12 of 19 products on Fresh Local & Imported Mushrooms collection
Showing 12 of 73 products on Fresh Local Seafoods collection
Fresh-cut Beef Sirloin - order price / Kilo

Fresh-cut Beef Sirloin - order price / 500 grams

Fresh-cut Pork Leg [Pata with Skin] Chopped - order price / kilo

Fresh-cut Pork Leg [Pata with Skin] Chopped - order price / 500 grams

Fresh Chicken Liver - order price / 500 grams

Fresh Chicken Liver - order price / kilo

Fresh-cut Pork Leg [Pata] Chopped - order price / 500 grams

Fresh-cut Pork Leg [Pata] Chopped - order price / kilo